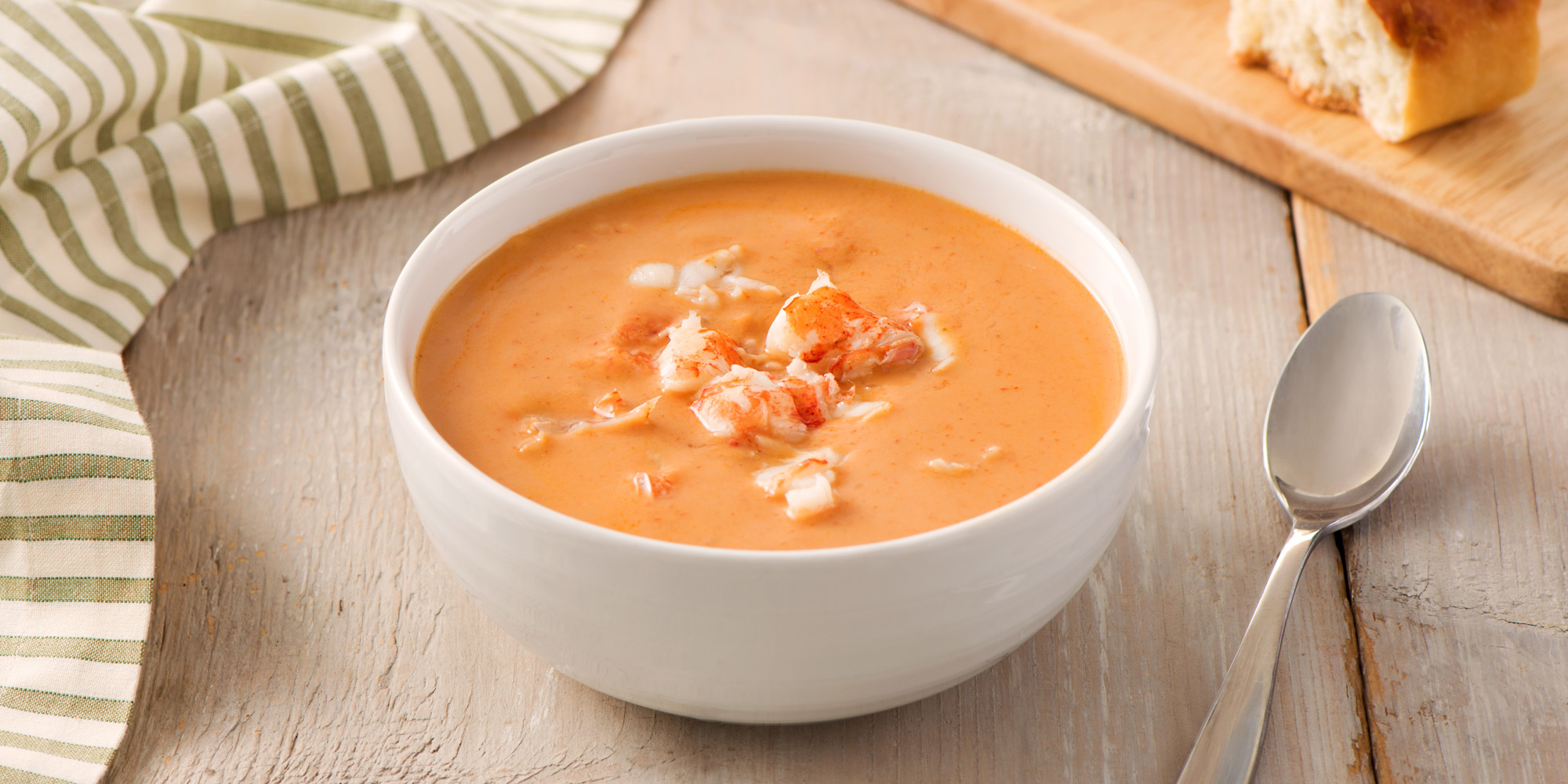 Florida Spiny Lobster Bisque
Ingredients
1 ½ pounds cooked Florida spiny lobster meat
1 rib Florida celery, finely chopped
1 Florida carrot, finely chopped
1 Florida tomato, finely chopped
1 medium onion, finely chopped
2 tablespoons olive oil
6 cloves garlic, chopped
2 tablespoons fresh tarragon leaves, chopped
2 tablespoons fresh thyme leaves, chopped
1 bay leaf
8 black peppercorns
½ cup brandy
½ cup dry sherry
4 cups fish stock or bottled clam juice
¼ cup tomato paste
½ cup heavy cream
1 ½ tablespoons cornstarch
2 tablespoons water
Sea salt and fresh ground pepper, to taste
Preparation
Slice cooked lobster meat into medallions, reserving a few slices for garnish. Coarsely chop remaining slices; cover and chill. In a 6-quart stockpot sauté the vegetables, garlic, herbs, and peppercorns in oil over medium-high heat until soft. Carefully add the brandy and sherry; simmer until most of the liquid is evaporated. Add the fish stock and simmer uncovered for 1 hour, stirring occasionally. Strain the stock into a large saucepan; discard remaining solids. Add tomato paste and simmer for 10 minutes until stock is reduced to 3 cups of liquid. Stir in cream and simmer for an additional 5 minutes. Combine cornstarch and water in a small bowl and whisk into bisque. Simmer for 2 minutes, stirring, until slightly thickened. Add chopped lobster meat and simmer until lobster meat is heated through. Add salt and pepper. Serve garnished with reserved lobster medallions.
Some of Our Favorite Recipes
Sign Up For Recipes From Chef Justin
Want to cook like our award-winning chef? Enter your email address and learn how you can enjoy delicious "Fresh From Florida" recipes from the comfort of your kitchen.