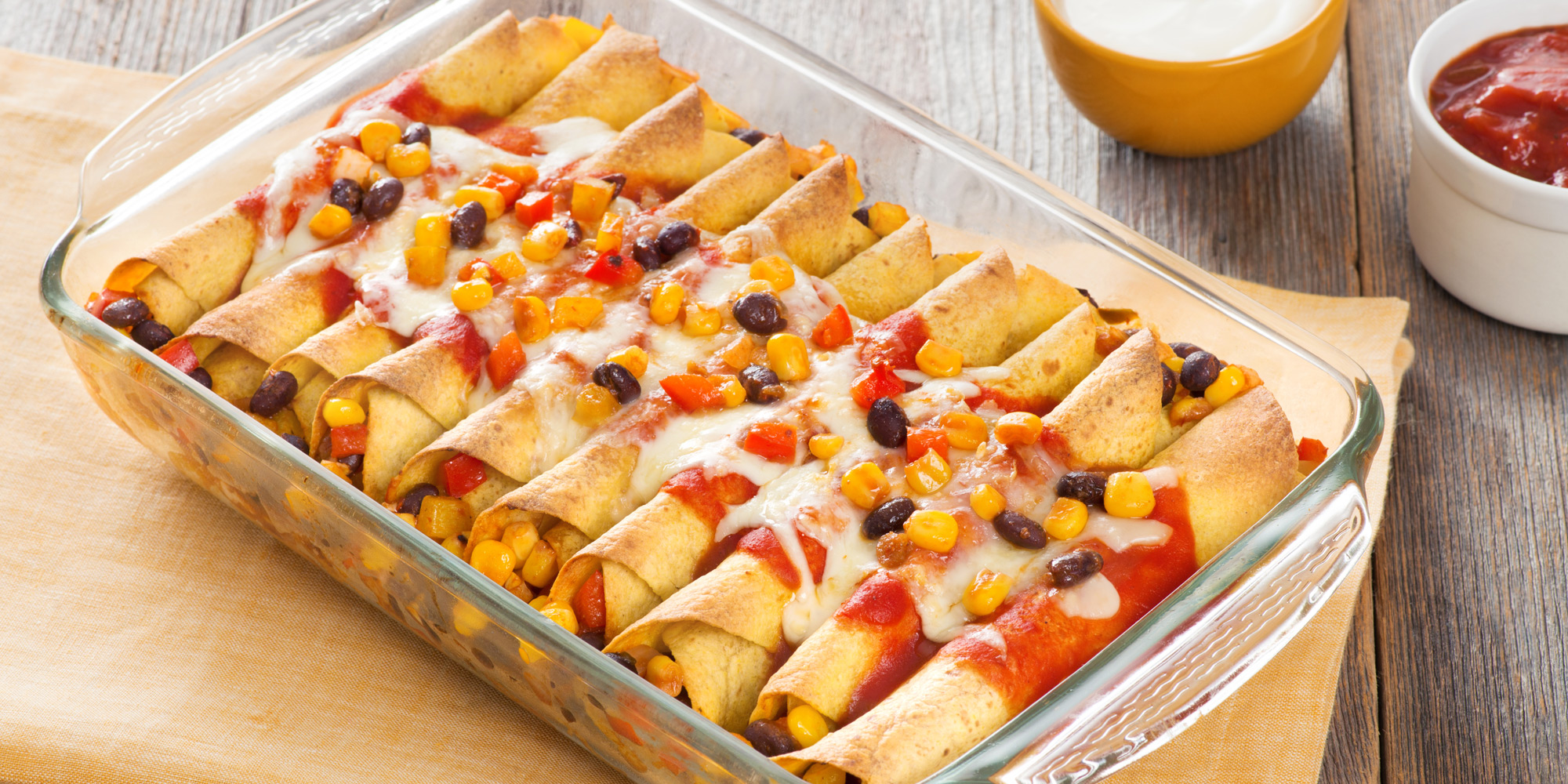 Florida Sweet Corn, Avocado and Black Bean Enchiladas
Ingredients
1 cup fresh Florida sweet corn kernels
2 Florida bell peppers, diced
1 Florida avocado, diced
1/2 cup onion, chopped
1 teaspoon ground cumin
1 cup salsa, your favorite kind
1 can low-sodium black beans, rinsed and drained
10 (6-inch) corn tortillas
2 cups shredded Monterey Jack cheese, divided
1 can enchilada sauce
1 tablespoon vegetable oil
pan-release cooking spray
Sea salt and fresh ground pepper, to taste
Preparation
Preheat oven to 350 degrees. Lightly spray an 11×7-inch (2-quart) baking dish with pan-release cooking spray. Preheat a saute pan over medium-high heat and add vegetable oil. Cook onion, corn and bell peppers over for 3 minutes. Add cumin, salsa and black beans and continue to cook for 2 minutes, stirring occasionally. Season with salt and pepper to taste. Remove pan from heat and let cool slightly. Place an even amount of the filling mixture in each of the 10 tortillas. Using 1 cup of shredded cheese, evenly distribute it on top of each of the 10 tortillas. Carefully roll up each stuffed tortilla and place them seam side down in the sprayed baking dish. Pour the enchilada sauce over the rolled enchiladas, spreading to coat all tortillas. Sprinkle with remaining 1 cup cheese. Bake 25 to 30 minutes or until cheese is melted and sauce is bubbly around edges. Remove enchiladas from oven and let cool slightly. Serve enchiladas with diced Florida avocado, salsa and sour cream.
Some of Our Favorite Recipes
Sign Up For Recipes From Chef Justin
Want to cook like our award-winning chef? Enter your email address and learn how you can enjoy delicious Fresh From Florida recipes from the comfort of your kitchen.