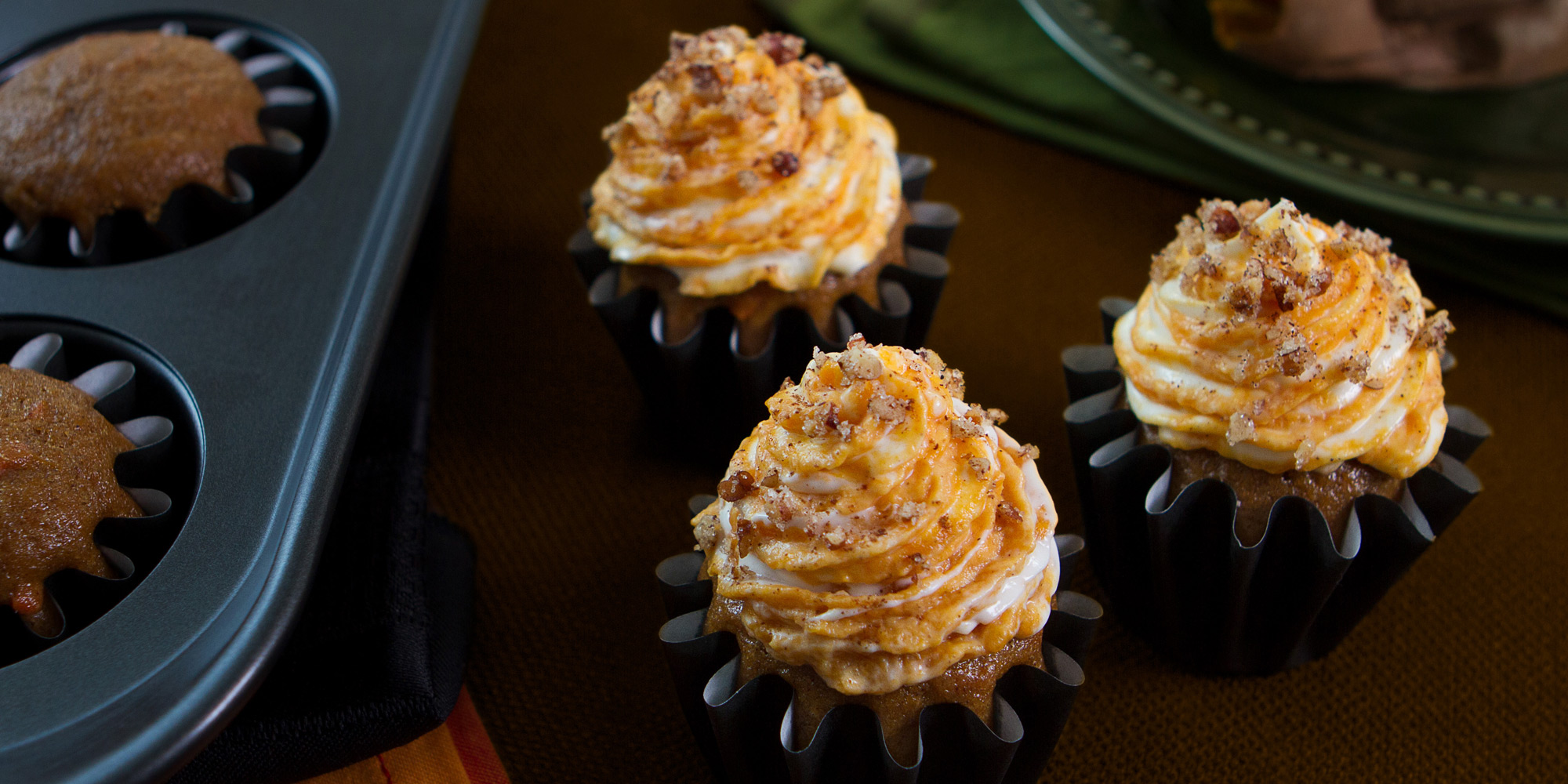 Florida Sweet Potato and Carrot Cupcakes
Ingredients
2 cups mashed Florida sweet potato (½ cup separated)
1 Florida carrot, grated
1 cup Florida pecans, candied and crushed
1 tablespoon ground cinnamon
½ teaspoon ground nutmeg
¼ teaspoon ground cardamom
¼ teaspoon ground ginger
⅛ teaspoon ground white pepper
⅛ teaspoon sea salt
1 cake mix, store bought or homemade
Cream cheese frosting, store bought or homemade
Preparation
Preheat oven to 375 degrees if using the homemade recipe (if using store bought, follow package instructions). Prepare cupcake batter using box mix or homemade recipe provided. Once the batter is prepared, place cupcake liners in the cupcake pan and set aside. In a small bowl combine the cinnamon, nutmeg, cardamom, ginger, white pepper, and sea salt and set aside. In another small bowl combine 1 ½ cups of the mashed sweet potato and ½ of the spice mixture. Fold this mixture along with the grated carrots into the cupcake batter until combined. Using an ice cream scoop, evenly divide the batter into the liners (about two-thirds full) do not overfill. Bake for about 16-18 minutes (if using the scratch made recipe) or until a toothpick comes out clean when inserted. Set aside to cool completely. Meanwhile, fold in the remaining ½ cup sweet potato mixture into the cream cheese frosting. When the cupcakes are completely cooled, frost each cupcake with desired amount of frosting. Sprinkle the crushed pecans and a small amount of the remaining spice mixture on each cupcake. Keep the cupcakes in a cool and dry area until ready to serve.
Some of Our Favorite Recipes
Sign Up For Recipes From Chef Justin
Want to cook like our award-winning chef? Enter your email address and learn how you can enjoy delicious "Fresh From Florida" recipes from the comfort of your kitchen.