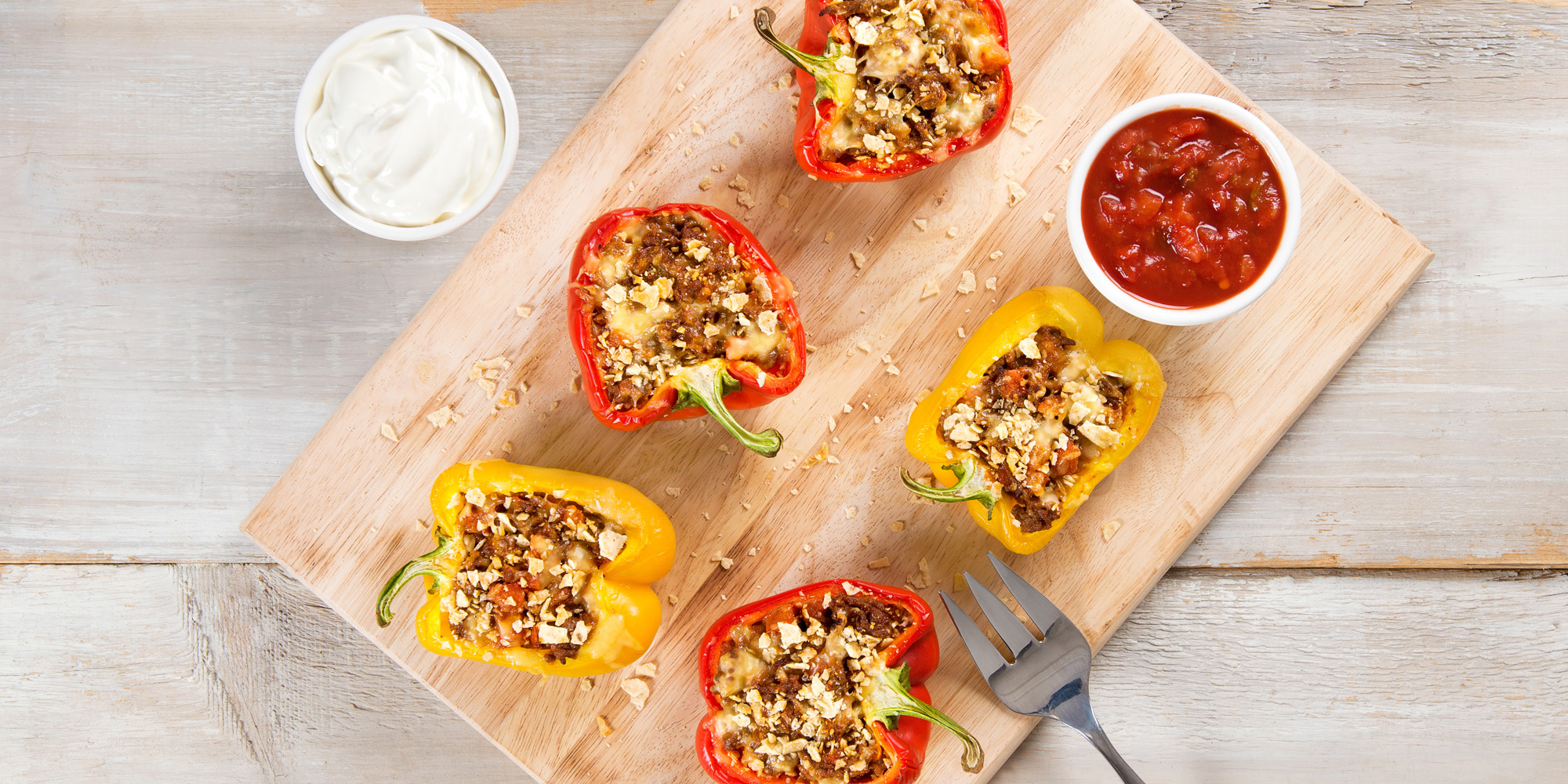 Taco-Stuffed Florida Bell Peppers
Ingredients
3 large Florida bell peppers (your favorite color), halved lengthwise, seeds removed
1 pound lean ground Florida beef
2 Florida tomatoes, diced
1 package taco meat seasoning for 1 pound of ground beef
1 cup onion, chopped
3 cloves garlic, minced
12 ounces Colby jack cheese (or your favorite), shredded
1 cup tortilla chips, crushed salsa and sour cream for garnish
1 teaspoon olive oil Sea salt and fresh ground pepper, to taste
Preparation
Preheat a large sauté pan over medium-high heat. Preheat oven to 375 degrees. Add olive oil to preheated sauté pan. Add chopped onion to the pan and cook until translucent. Add garlic and ground beef to the cooking onions. Brown ground beef and drain any excess fat. Add the taco seasoning mix and diced tomatoes; stir ingredients to combine. Remove from heat and let cool slightly. Add about 4 ounces of the cheese to the beef mixture and stir to combine. Evenly stuff each pepper half with the beef mixture. Top each stuffed pepper with the rest of the cheese. Place stuffed peppers on a cookie sheet and bake in preheated oven for 15 to 20 minutes. Remove stuffed peppers from oven and evenly top them with the crushed tortilla chips. Place the peppers back in the oven for another 5 minutes or until tortilla chip topping is golden brown and filling mixture and cheese are bubbly. Remove stuffed peppers from oven and let cool slightly. Serve warm with salsa and sour cream.
Some of Our Favorite Recipes
Sign Up For Recipes From Chef Justin
Want to cook like our award-winning chef? Enter your email address and learn how you can enjoy delicious Fresh From Florida recipes from the comfort of your kitchen.